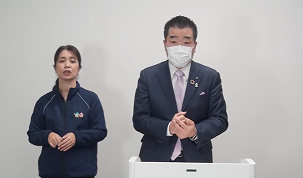 Here are 4 important messages to residents from the governor:
Prefectural junior and senior high schools and special needs schools will be closed from Monday, April 13 to Wednesday, May 6, 2020.

*Prefectural (Kenritsu) junior high schools:

Kawase Junior High School
Moriyama Junior High School
Minakuchi Higashi Junior High School
*To find out the status of a national, municipal or private school, please contact the school directly.
To avoid the spread of the virus, please stay at home unless you have errands to run. You can go outside to visit hospitals, shop for food and other goods, go to work and do any other things that are necessary to your daily life. You can also exercise and take walks outside.
Don't create settings where all "Three Cs" overlap in your everyday life, including at work: spaces that are closed and crowded, and where you are in close contact with others. Stay away from such places.
If you have cold symptoms, a fever of 37.5℃ or over lasting for 4 days or more, extreme fatigue, shortness of breath or breathing difficulties, contact the Center for returnees and people who've come in contact with the infected. If you do not speak Japanese, call the Shiga Foreign Residents Information Center instead.
It's crucial that everyone work together right now to prevent the spread of the infection.
I hope I can count on your cooperation.
MIKAZUKI Taizo, Governor of Shiga
                     April 8, 2020
Center for returnees and people who've come in contact with the infected
Pharmaceutical and Infectious Disease Prevention Office, Department of Public Health Care and Welfare, Shiga Prefectural Government
Telephone: 080-2470-8042 (24/7, including holidays)
Shiga Foreign Residents Information Center
Telephone: 077-523-5646  (Weekdays from 10:00 a.m. to 5:00 p.m.)
Email: mimitaro@s-i-a.or.jp
Available languages: English, Portuguese, Spanish, Tagalog, Vietnamese, Indonesian, Chinese, Korean, Thai, Nepali, Russian, Hindi
Note: For enquiries related to COVID-19, please call or email, and avoid coming to the center in person.
What are the Three Cs?
Closed spaces with poor ventilation
Crowded places with many people nearby
Close-contact settings, such as close-range conversations